Like many people your heading to Mt Buller, its closer, quicker to get to than other mountains. But wait!! You get stuck with the masses in Mansfield waiting for Chain hire and Ski hire.
Buzz past the masses and get on snow quicker with Snow Monkey and George's Ski hire. Now you can fit and book your ski hire and chain hire before you leave Melbourne at Snow Monkey and have your gear ready to go in the Mt Buller Village. No stopping on the way to get your gear only to be stuck in traffic, blast past them and get on snow the quicker easier way.
So click below or drop into us at 464 Smith St, Collingwood for all your hiring needs. For more information email us on info@snowmonkey.com.au or call on 03 94170170.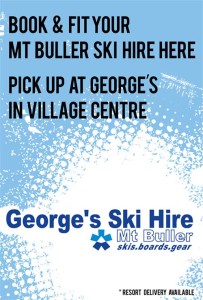 How does it work?
Simples!!
Any time before your trip visit us at Snow Monkey, to get all your gear fitted in store (464 Smith St, Collingwood), including your chains. We take care of the booking, the chains, the gear. All you need to do is drive up the mountain safely.  We will keep all your details for your next trip so all you need to do is confirm your dates and your gear will be ready on arrival. Alternatively you can have your gear delivered to your accommodation! Just let us know.
Simple!
Questions
When can i pick up my chains? Anytime within 4 days of your trip and drop within a fews days of your return.
How do we book different dates? Easy we keep your details on file.You can either contact us to process in manually, or just click on the George's ski hire link on this page and your details will be already there.
More questions just contact us on info@snowmonkey.com.au or call 03 9417 0170.